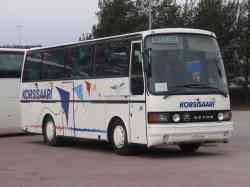 Tampere, Ilmailunkatu, Tampereen Messu- ja Urheilukeskus
Charter

Carrying the highest ranking VIP-guests for th veteran day party. They could have picked up newer bus... anyway it was a veteran also.
Привёз высокопоставленных VIP-гостей на встречу на дне ветеранов. У них была возможность, взять более новый автобус ... однако, этот автобус, также ветеран.
Tuesday, April 27, 2010
Author: Ozzy
¤